Evri, the new Hermes: A history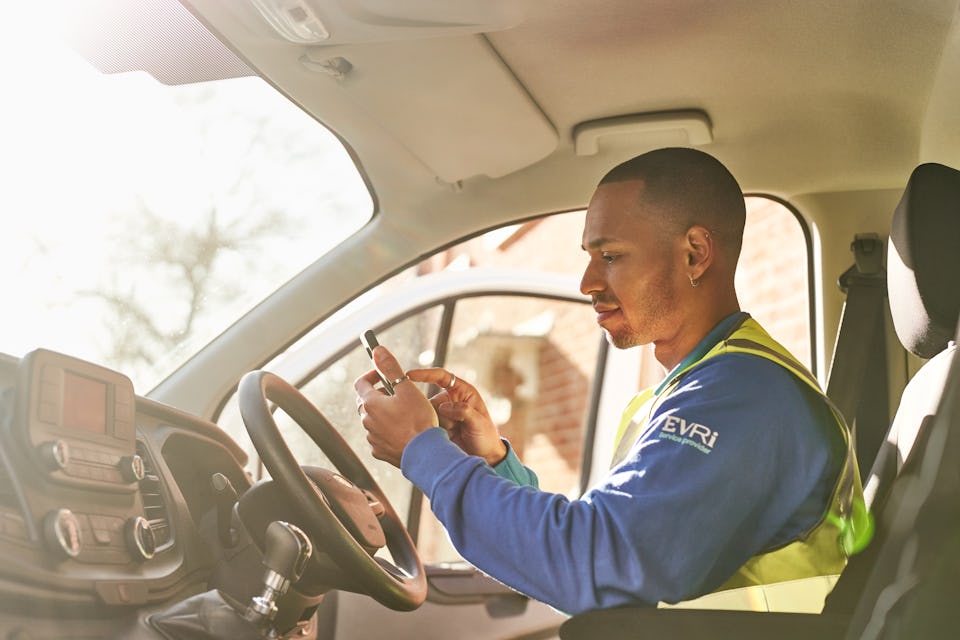 A quick history of how Evri began
Evri is a successful parcel service, where you can send and track parcels through an easy and affordable network. Evri previously traded as "Hermes", so there is a lot of history to our brand. Here's how we started and where we are now:
1974
Our success story started as Grattan Mail Order, back in 1974 - in Bradford, Yorkshire. Here, the home delivery model was launched, followed by the lifestyle Courier, where staff and their families delivered parcels and invoices to customers.
1988
In 1988, Next Directory was launched, and 48-hour delivery was becoming the standard. By this time, Couriers were delivering more than 80% of Grattan's parcels!
1999
In 1999, Grattan and Freeman's Catalogue Company merged their delivery infrastructures to become Parcelnet.
Meanwhile, many leading retailers were launching their own transactional websites. Then, customer confidence in online shopping started to grow, which was helped by the launch of online parcel tracking in 2004.
2008
In 2008, Parcelnet formed closer links with its sister company in Germany. It then rebranded as Hermes Parcelnet Ltd.
2009
The following year, Hermes launched its consumer business myHermes, providing delivery solutions to small businesses and anyone wanting to send a parcel.
This offered new ways for customers to send parcels through our network, by choosing a Courier service. We still offer this great service today, which helps you send parcels easily and conveniently.
2010
In early 2010, we introduced the first ParcelShop, for people to send items conveniently from a chosen location. Now, the company has a nationwide network of ParcelShops to choose from.
2014
In 2014, Hermes became the first UK delivery firm to offer a 7-day-a-week service. But we didn't stop there. Later that year, we launched 3 more initiatives:
A dedicated international division, giving retailers easy access to consumers in 20 European countries!
myHermes' own 7-day and international delivery solutions
Small Business Accounts for SMEs wanting to send over 150 parcels per week
2017
In August 2017, Hermes opened its Rugby super hub. At the time, it was the largest logistics hub in both the UK and Europe, creating more than 100 new jobs.
2018
"The Parcel People" became the new Hermes strapline, launched along with the new brand and fleet colours in 2018. The first low-carbon biomethane CNG truck was introduced, too, alongside EVs in London.
2019
By 2019, Hermes delivered more than 335 million parcels a year, with a mission to be the UK's carrier of choice. By this stage, 5,400 ParcelShops were available for businesses to send parcels from, and 20,000+ self-employed couriers benefitted from our Self-Employed+ programme, guaranteeing an hourly rate and paid holidays.
2020
Business continued to grow, with the Covid-19 lockdown increasing customer interest in online shopping, boosting sales for online retailers. It was Hermes that helped deliver people's all-important parcels.
In 2020, Biomethane CNG accounted for 30% of the core tractor fleet. It was then that Hermes transformed, with the company - Avent International, investing in Hermes UK to launch the Transformation Programme and ESG Steering Committee.
2021
Hermes launched the new ESG strategy.
2022
Hermes rebranded as Evri in March 2022 and we've seen continued success since, outperforming the market. The rebrand also established our new Evri values, which have quickly been adopted by our colleagues and couriers. The first Courier pension scheme was also introduced in December 2022, entitling them to extra benefits, such as parental leave – which was part of our Self Employed+ offer.
The rebrand is more than just a name change, it's a signal for the next stage of our evolution and a statement of intent: "delivery made for you". The Barnsley 'superhub' also opened for business in 2022, which is the greenest site in our network to date.
2023
Evri is the UK's biggest dedicated parcel delivery company – and we're just as proud of our roots as we are of our current success!
At Evri, we have a friendly team of 20,000+ Couriers, alongside 8,500+ ParcelShops and Lockers, and our low prices make sending parcels affordable.
Evri has sustainability in mind, and has set out public targets to become net-zero by 2035. From 2022-2023, we have managed to reduce our carbon per parcel, as well as our absolute total carbon (scopes 1, 2 and 3) by 10%, and operational carbon by 17% (scopes 1 and 2).
Another goal is to achieve a 20% reduction in our buildings' energy consumption per square foot by 2030, achieving operations powered by 100% renewable electricity from October 2021.
We continue to build the biggest green fleet of any dedicated parcel delivery company in the UK. We now have 190 Bio-CNG tractor units - 52% of our core tractor fleet. We also doubled the number of electric vans in service in London, bringing EVs to 37% of our total van fleet.
We aim to serve all ParcelShop deliveries by EV at the earliest opportunity. We're currently trialling eCargo bikes to enable final mile zero emission deliveries, too. We also hit the milestone of +160,000 parcels delivered by bike by the end of FY 2022/23.
You can learn even more about us across our website, and even start sending parcels through our network.