Parcel people stories - Tina Brown, Contractor Manager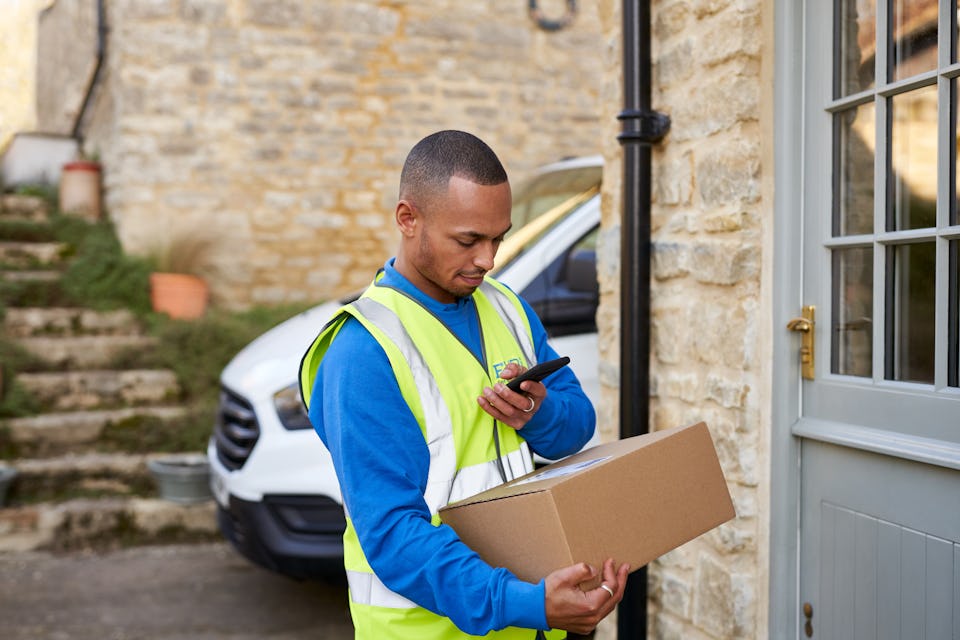 A day in the life of Tina Brown, Contractor Manager
"I think we're helping to keep the nation's sanity intact," explains Tina Brown, who's busy playing an important part in keeping the country running in this strange, difficult time.
"For the last year, as consumers, we haven't been able to go to the shops to buy what we want. Most of us are stuck at home, we need things to do, so we go online to buy things to keep us occupied – and somebody's got to deliver that.
"These circumstances have been unprecedented for the home delivery market."
Tina joined Hermes in January last year – "life was normal then!" she laughs – as a divisional Contractor Manager covering major regions including Birmingham, Liverpool, Bolton and Crewe.
"I look after the contractor vans from a performance point of view, and all the ad hoc support that we give to the field teams," says Tina, who has a wealth of experience in her sector having previously been depot manager at other delivery companies. "No two days are ever the same," she reveals. "You never get a chance to get bored. Every day is different, with different challenges."
Those challenges have really ramped up since Covid-19 hit, particularly in terms of the sheer volume of parcels depots have had to deal with. "When you go from 'business as usual' straight into peak with zero planning – which is in essence what's happened – it's a massive challenge," admits Tina. "The whole experience has been like a thunderbolt.
"We – the contractor team – are so reliant on being serviced by the depots, and the depots have struggled because of the volume. And if they struggle, we struggle – it has a knock-on effect."
Like many people across the industry, Tina and her team have had to adapt. The dramatic hike in volume has led to several logistical issues. "The challenge of maintaining performance in a compliant manner when the volume is so high is massive," she says.
"It's been tough to get more staff who can hit the ground running at such short notice. I've overcome this by giving more of my time to the cause and just being there to support the contractors themselves. All this has made the days extremely long – 9 or 10 o'clock finishes are not unusual. But I'm immensely proud of my colleagues. A measure of success is how we perform in the face of adversity, and to deliver what we have done and continue to do in these difficult times is testament to our ability and commitment."
Social distancing is also affecting the way she works. One of her favourite things about her job is visiting the different sites she looks after and interacting with the teams to fully appreciate what makes them tick. Like all of us, Tina has made use of video conferencing, but lockdown hasn't stopped her travelling entirely.
"The huge emphasis on social distancing has meant my support manager and I have had to do weekly Covid audits at each of my six depots."
That ironic but upbeat tone is a mark of how Tina and her team are successfully rising to the challenges of Covid-19. In fact, she's found several positives amid the crisis. For one, she feels there's more communication now, not less. "Because there have been so many challenges, there's been more interaction between sites, so I feel that's quickly fostered better working relationships with people in the depots."
While no one knows when normality will return, she is optimistic about working through the peak that came earlier than we could have predicted. "We've essentially been in peak for a full year," she says, "and it will prepare us for continued growth. Hopefully, the next traditional peak be a bit easier because we'll have had a flavour of what to expect. It's a positive out of a negative!
"I joined Hermes and went straight into peak. When we come out of it, I'll probably look back and go, 'You know what, it was probably the best thing that could've happened,' from a learning perspective. Because you have to learn really quickly."