Evri Employee story - Matthew Rhodes, Account Management & Operations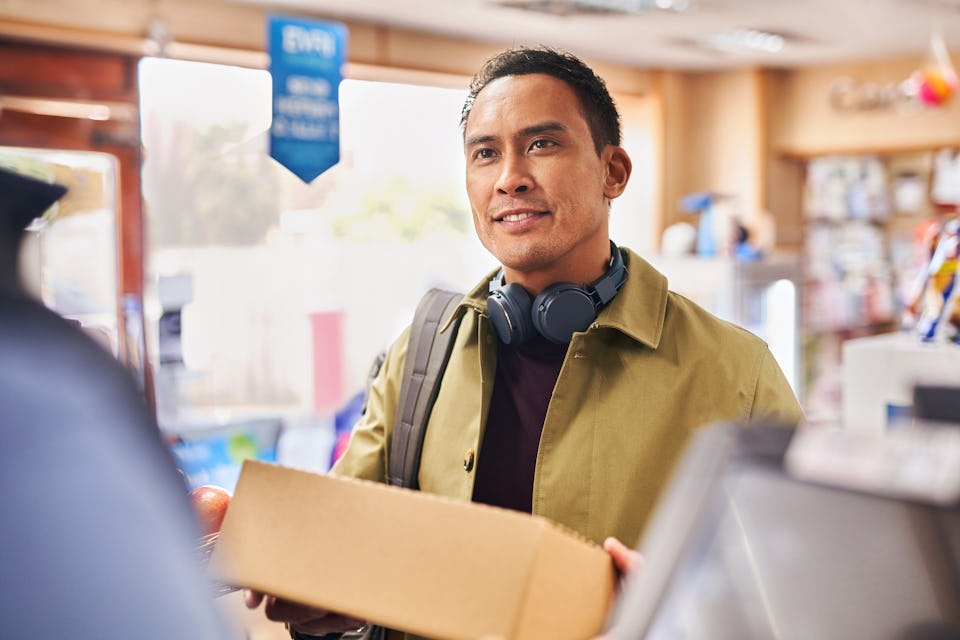 "It's a very exciting time for fulfilment at Evri"

From Basildon to North America… and beyond! Account Manager Matthew Rhodes has the lowdown on Evri's exciting fulfilment plans both at home and abroad.
Hi Matthew. Tell us a little bit about your role…
"Building the account management for fulfilment from scratch, basically. I was the first account manager to be involved in fulfilment – one of my colleagues joined me in December last year. Originally, account management was a kind of support mechanism for other areas of the company, like sales, but I had a vision of making account management its own arm of fulfilment – it's a bit revolutionary! If customers know they've got an account manager who's dedicated to fulfilment, they know there'll be a stronger structure and better processes in place, which can only be good for the customer."
What does a typical day look like?
"My colleague and I will usually arrive on site at about 7 am. We'll have an account management catch-up, look at unresolved or pressing issues, and devise a plan on who's going to deal with what. We have regular meetings as well, with all the key stakeholders in fulfilment and other departments. Then there's working with the clients. Methods of communication vary, so we host client tours on-site, for example as well as face-to-face meetings, Teams calls, and phone check-ins. It's a very varied role and that's why I enjoy it so much. I used to live for the weekends… but now I find the weekends inconvenient! It sounds corny, but I literally can't wait to get stuck into work."
Fulfilment is a fairly new focus for the business…
"Yes, it's all hands on deck at the moment as we're trying to get the new fulfilment proposition up and running. It's related to the international proposition, which was new last year. You've got international outbound, but there's international fulfilment as well. So we work together closely, especially on the carrier management side of things – it's quite a collaborative role."
And how's it going?
"Just to give a bit of context, the individual who was line-managing operations has been tasked with project management in terms of the sites we're exploring and looking to launch. We started off in Basildon and we're weeks away from launching Nuneaton, so that's his next project in making sure the hardware, compliance and so on is in place to get the site up and running. Once he's completed that, it's on to the next UK site. Then, for phases 2 and 3, we're looking further afield. We have already got a site in the Netherlands and by the end of the summer, we will hopefully have our first live site in the US. To support that goal, I'm taking over line management of operations, freeing up my colleague to go off and help out with the expansion plan."
Is your background in logistics?
"No, I came from retail banking. I worked at Santander until July 2021 and was a Branch Manager for 10 years. I line-managed teams of between 7 and 17 people across all sorts of roles, from Mortgage Advisers to Cashiers. So, when I was asked to manage the operations at Evri, as well as build and lead the Fulfilment Account Management division, it wasn't too daunting a prospect!"
So it was a smooth transition from banking to logistics…
"Well, put it this way. As Branch Manager I was customer-facing, and you are looking at about 20,000 customers assigned to a particular branch. At any point, any one of those 20,000 customers could walk in with a complaint or an issue needing to be fixed immediately, face-to-face. As you can imagine, it could get a bit hostile or volatile! So going from that to managing corporate clients, is not only a much safer environment but also a lot more organised and structured. That said, there are a lot of similarities too, especially with the account management piece – problem-solving, complaint handling, escalations and so on. Because of my background in banking, I brought a lot of structure and processes to my role at Evri."
It sounds like you can't wait for Monday mornings to come around, but what do you enjoy away from work?
"I used to like playing football, going to matches, socialising – but I've recently become a dad of two. My youngest is six weeks and the eldest is two. So I take him swimming on Saturday and to infant football on Sunday, and anything around that is just spending time with my new son and everything else that comes with being a dad. When anyone asks on a Monday, 'What did you get up to at the weekend?', you just can't tell them. Apart from swimming at 11 o'clock and football at half-nine, anything other than that is anyone's guess!"
Are there any exciting future projects you can talk about?
"Absolutely. Eventually, we want five fulfilment sites in the UK covering all regions. We're actively looking at other sites in Europe, and then we want to go deeper into America with five sites covering all US zones, starting with the East and West coasts. It's going to open up massive opportunities for the business. It's really exciting – I'm so pleased to be in the position I'm in right now. As part of the expansion plans, I've created a career path for future account managers; so instead of just one Account Manager job description, we have created five new job descriptions that anyone who joins our account management team can climb within the career path. As I said, it's a very exciting time for fulfilment and account management at Evri."