Evri Employee story - Lucie Rowley, ESG Manager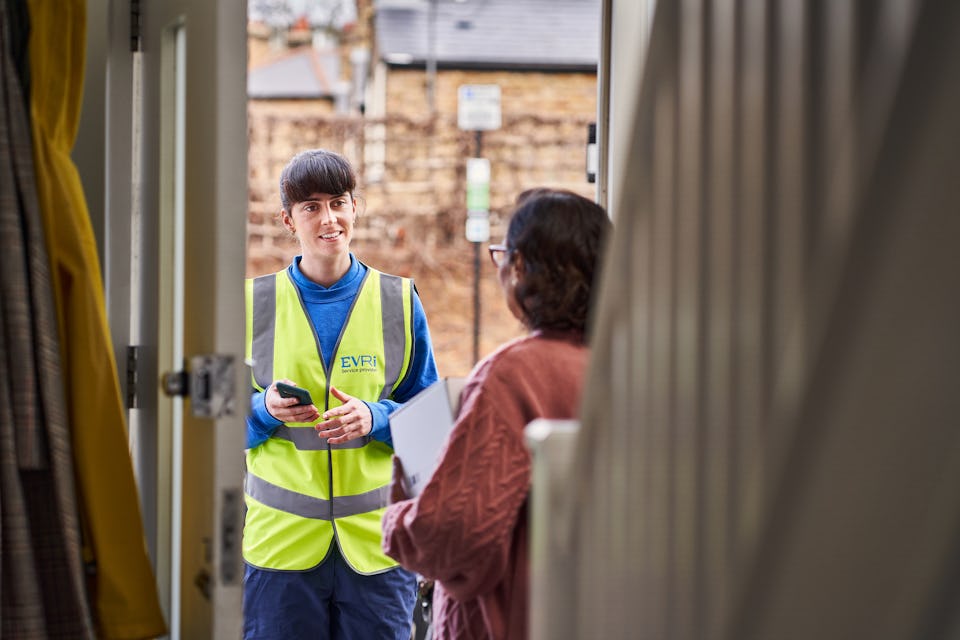 It's Clean Air Day on Thursday, so we spoke to our ESG Manager – and self-confessed eco warrior – Lucie Rowley to find out more about Evri's Environmental, Social and Governance team…
Hi Lucie. Tell us a little bit about your role…
"Technically, I'm the ESG Reporting Manager. I'm responsible for looking at existing and emerging frameworks around legal compliance reporting, guiding engagements and disclosures, carbon footprinting, SECR and TCFD reporting… there are a lot of crazy acronyms to get your head around! It might not be glossy or glamorous for some, but it's really exciting for me!"
Do you find you have to explain a lot of complex info to other people in the business?
"There is an element of translation in taking the raw data, turning it into a report and explaining what it means for the company. We can then look at trends to see what's happening and why. Most people are on board though, and want to do the right thing. Actually, I've not come across anyone yet who doesn't see the importance."
Is it a collaborative role?
"Yes, there are quite a few stakeholders across Evri – I work with finance, fleet, facilities, procurement, comms, legal and public affairs. It's great to get a diversity of opinions and to bring as many people to the table as possible. It's easy for me being an eco warrior to only see one agenda, whereas the beauty of ESG is that it has a lot of stakeholders and a lot of opinion and input from across the business."
Have you always been passionate about the planet?
"I've always had an interest in sustainability and the environment. When I was in primary school, we all had to get on the stage and say what we wanted to be when we grew up. There were doctors, nurses, dentists, hairdressers – the full plethora of careers. Then I walked onstage in a wetsuit wearing goggles and flippers, and 11-year-old me said I wanted to be a marine biologist! My mum still has it on video somewhere, she likes to bring it out on special occasions."
What did you do before joining Evri?
"I studied environmental science in Southampton and from there I've worked in a variety of industries, but always in a sustainability role. I was a business analyst in a recycled paper company, I worked as a sustainability assistant for a large agriculture company, I had an ESG co-ordination role in financial services, and then joined Evri in November 2021. It's always been quite a straight path in that sense. I've always been lucky to work in an area I'm really interested in."
Why is ESG so important for the logistics industry and Evri?
"Emissions in fleet and transport is one of the most important areas to tackle when it comes to net zero and decarbonisation, so it's a really exciting time to be in this industry. In terms of Evri, the specifics of decarbonisation and vehicle electrification, the concept of net zero and working with businesses in order to track their carbon footprint and ultimately reduce it is where my experience translates. And working here has been a learning experience for me – I had absolutely no idea about the parcel journey and all the things that happen before a parcel is delivered. The amount of places that just one parcel goes blows my mind! It's amazing to see everything that goes on behind the scenes. At Evri, there are hurdles to overcome but we're in a really good position to make a positive difference. Just from a personal perspective, it's a great time to join the company and to watch all these developments coming through and see the exciting changes that are taking place."
Can you tell us about any current projects?
"Well, we've just finished our first end-of-year ESG report, which feels like a huge milestone. Then there's ESG training for all staff coming up – management this year, and then all employees and couriers over the next couple of years. There are also some really exciting trials for fleet and street-portering underway."
Finally, what's the best thing about working at Evri?
"Simple: the people I work with. It's the reason I took the job, to be honest!"